Direct Deposit Instant Deposit
Members have the option to instantly deposit most direct deposited funds.
Instant Deposit is available now. Log in to Online Banking or Mobile Banking. Go to: My Accounts>ACH Transactions and select Instant Deposit.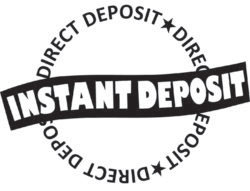 Instant Deposit Policy:
Instant Deposit is defined as early access to funds pending in direct deposit.
There will be a $10 fee per instant deposit. (The $10 must be in the account and available. It cannot come from the deposit.)
This fee only applies to Instant Deposit and does NOT apply to regularly scheduled deposits.
No checking account required.
Direct deposit and earlier availability of funds are subject to the timing of the payer's funding, and credit union approval. Total Community Credit Union cannot guarantee a payer's funds will be available for Instant Pay since all electronic (ACH) payments do not qualify.
This cannot be set up to happen on a recurring basis. Instant Deposit service needs to be requested each time you would like to take advantage of it.
Instant Deposit is available in online banking, mobile banking or with a credit union representative.